Is the pleated skirt in fashion again? Totally! What was considered a cliché-garment by grandmas, secretaries or schoolgirls a few years ago is today absolutely trendy. We'll show you what types of pleated skirts there are and with what to wear them.
Pleated skirt guide and styling rules
Pleated skirts consist of mostly thin fabric with artificially formed pleats. The fabric is usually synthetic because the pleats would disappear on natural fabrics after washing.
Popular materials are polyester, satin, tulle, chiffon, but also leather or silk. Currently, especially pastel colors or transparent skirts with opaque underskirt are very trendy. And those who like it more glamorous can check out the metallic skirts. However, when wearing a pleated skirt, there are a few things to keep in mind so that the outfit looks perfect.
#1 The right width
The folds of the pleated skirt can visually add volume, or in the worst case, to look fanned out if they are too tight. So if you have big hips (pear shape), you should choose a slightly wider A-line model.
# 2 The right length
If you have slim legs, you can choose pleated skirts in all lengths, even mini. Midi skirts are suitable for almost everyone, except for women with big calves. Ankle length looks great especially for small women, tall and slim ladies look best in maxi skirts.
# 3 The right style
For a perfect look, the pleated skirt should be leading, the rest of the outfit follows. So do not use too eye-catching patterns on tops or jackets.
# 4 The skillful juxtaposition
You need to create the right juxtaposition and combine the conservative-looking pleated skirt with cool or modern pieces. You can, therefore leave the strict blouse or your favorite ballerinas in the closet.
The right skirt for your body type
Plus size or curvy girls with a pear-shaped figure and big hips can achieve a great slimming effect with pleated skirts. A-line midi skirts are the best way to hide the problem zones like hips, bottom, and thighs. You can create a perfect hourglass figure if you lift the skirt at the waist and tuck the top in the skirt.
Petite women can also use this little trick: in order to stretch the figure, they can choose a shorter model in combination with high heels. But beware: The downside of mini skirts is that they emphasize the thighs and you should, therefore, have slim legs. If you want to choose a longer skirt, note that the model should end at the narrowest point of the legs – this visually stretches the figure and automatically creates a slimmer silhouette.
How to style a pleated skirt
You can wear stylish pleated skirts in many ways. For all tops (except for oversize sweaters) remember: Always tuck in the skirt! This is how you can create the following styles:
# Girly look
Style a romantic and sweet look with a pleated skirt in pastel colors such as pale pink, light blue or white (you can find some chic white pleated skirt outfit ideas in this post). The skirt can be made of tulle or partially transparent. Skirts with wide, so-called box pleats also look beautiful. These fall very nice and create a playful look. Sneakers or sandals are great, high heels make the look more feminine.
Combine with: cute tops, knot blouses, playful blouses, denim jackets, sneakers, sandals, heels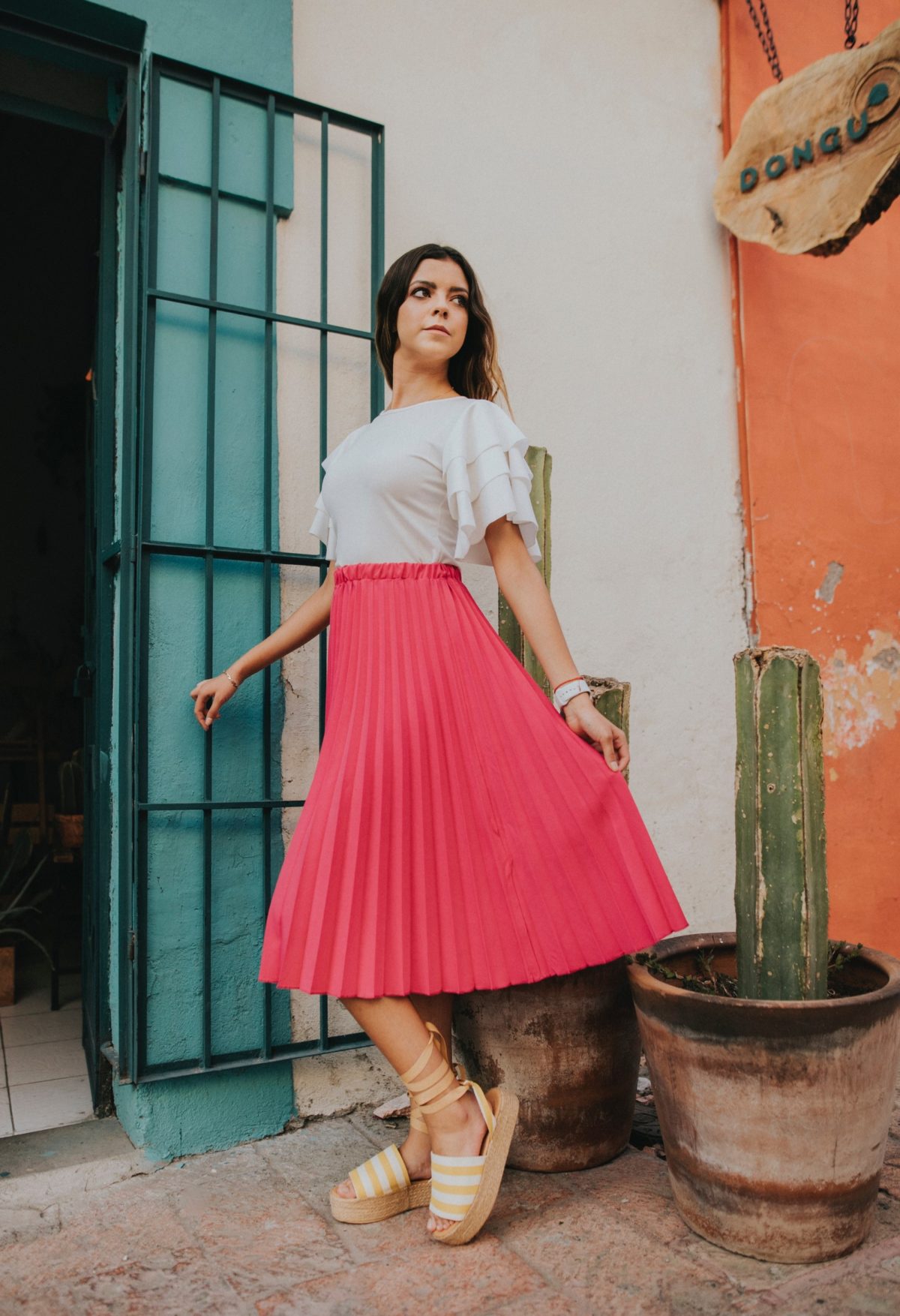 # Trendy look
Metallic pleated skirts, made of leather or with an asymmetric cut look very trendy. Wear a gold or silver pleated skirt with a simple t-shirt with a cool print in more muted colors, so that the outfit doesn't look overloaded. If you opt for the leather version, the skirt should at least reach under the knee and be paired with a wide jacket. A white shirt also fits perfectly. For a party outfit style the pleated skirt with a lace top or a sexy crop top.
Combine with: T-shirts, oversized shirts, oversized sweaters, leather jackets, aviator jackets, sneakers, boots
# Elegant look
For work or for a cocktail party, you can wear a pleated skirt in a more elegant combination. So your top should sit tight, but also cover enough. The pleated skirt should be in dark tones such as black, wine red or emerald green, a waist belt, and high heels emphasize the elegant styling. Skirts made of silk fall very soft and look beautiful.
Combine with: tight sweaters, fine blouses, turtlenecks, bodysuits, waist belts, lightweight coat, high heels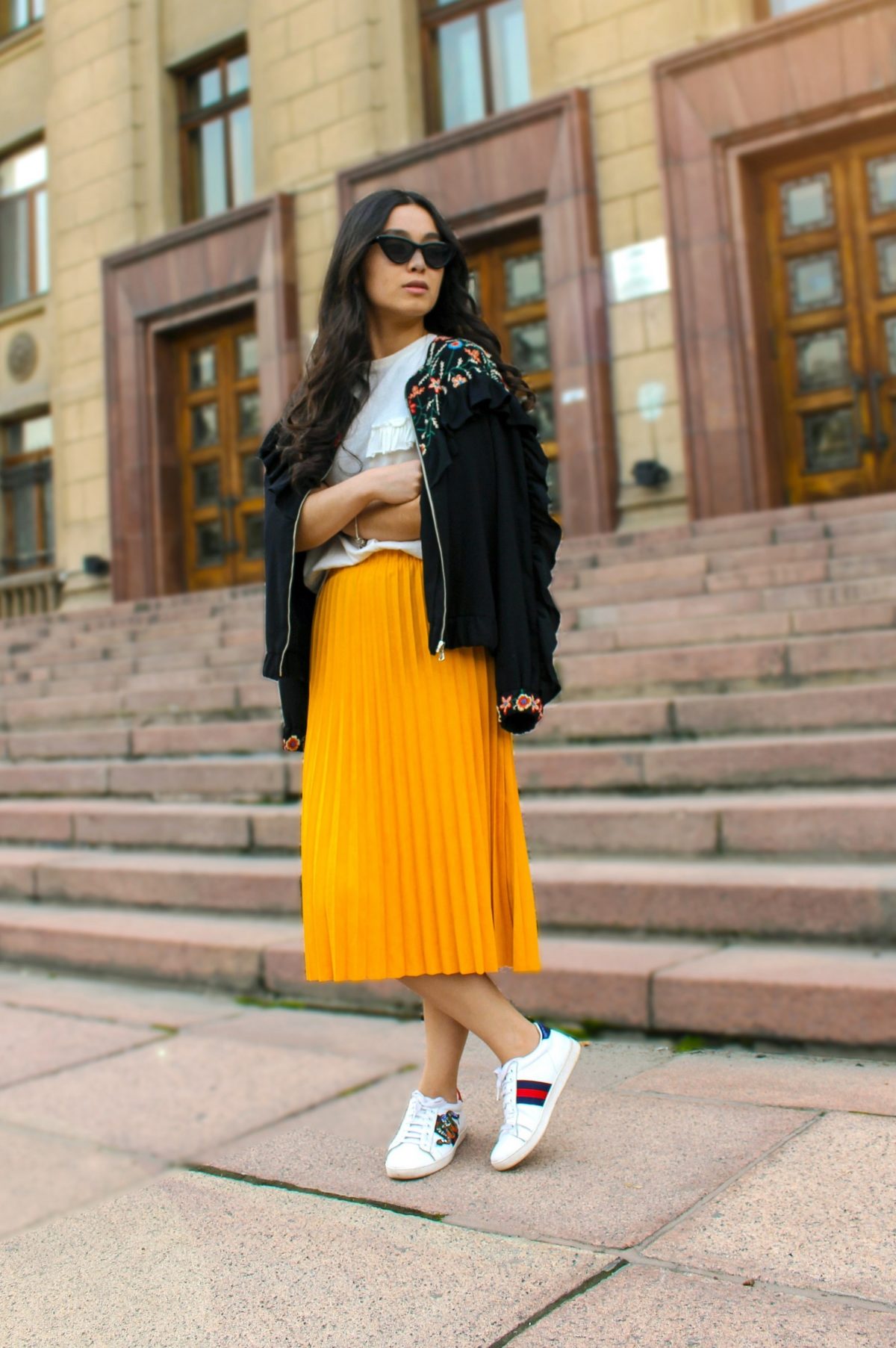 # Casual look
In everyday life, you can style a casual outfit and create a young look. Pair the midi skirt with flat shoes and simple tops such as monochrome shirts or sweaters. Round out the outfit with a leather or aviator jacket.
Combine with: crop tops, white shirts, print shirts, muted colors, casual jackets, sneakers, high heels
How to wear a pleated skirt in every season
Pleated skirts are clearly part of the warmer season thanks to their lightweight fabric, but you can also wear them in autumn and winter. With knit sweaters, booties or biker boots and a long coat, you are wrapped up warm enough and still rock the look. A cuddly blanket scarf completes the whole thing. In spring and summer, on the other hand, the styling becomes easier: sandals, sneakers and airier tops conjure up the most beautiful look when a warm breeze blows through the pleated skirt.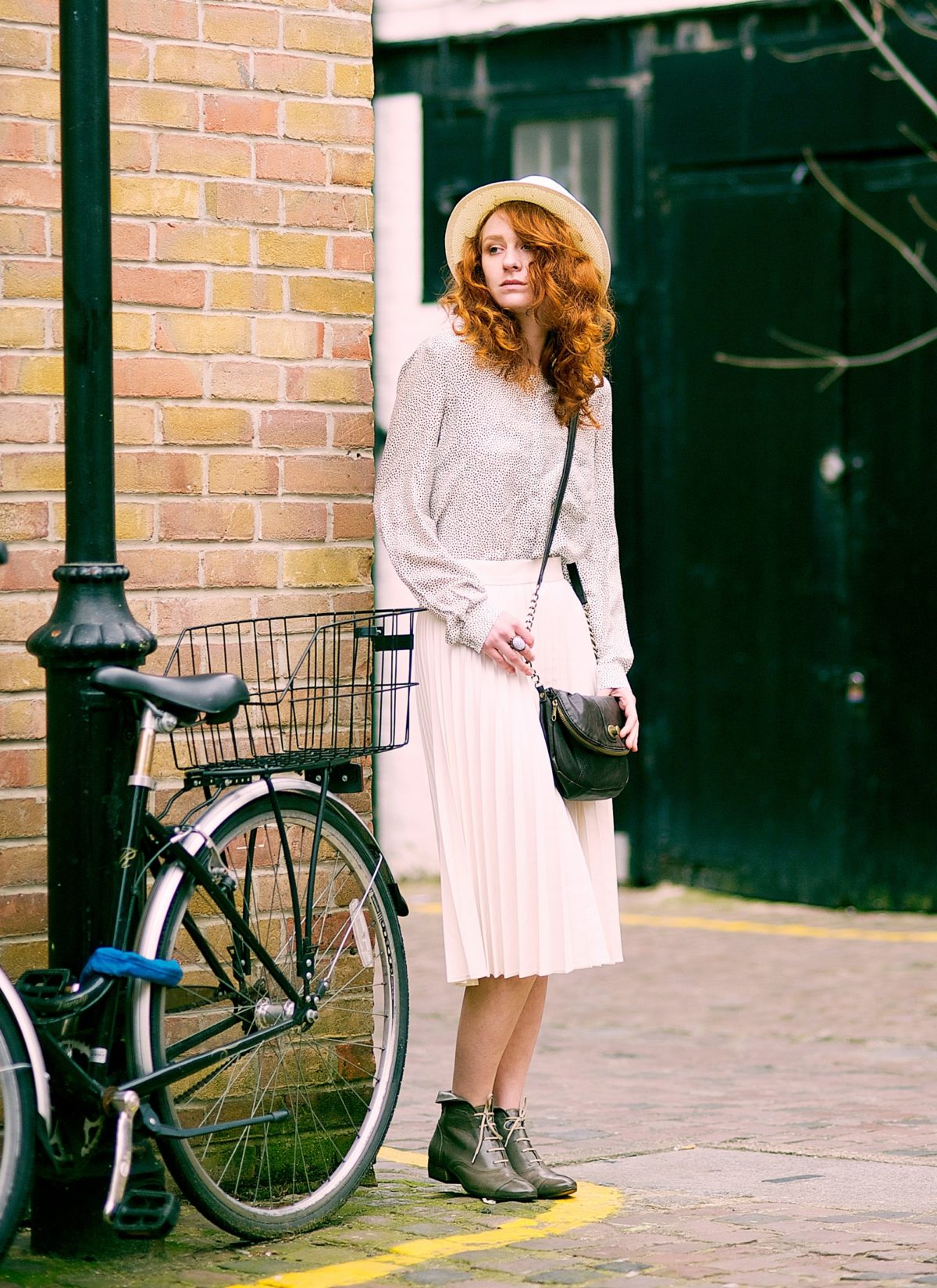 Pleated skirt in spring
When the temperatures get warmer again, your pleated skirt will be in its heyday. Wear it with simple sneakers and a thin cotton sweater in the trendy striped look.
Pleated skirt in the summer
In the hot summer months, less is more: combine your pleated skirt with a simple top and casual sneakers. Even sandals or Birkenstocks fit well with this look.
Pleated skirt in autumn – An autumnal variant is a combination with sporty sneakers and a cotton sweater. If you are too cold, you can put on a leather jacket or a thin coat.
Pleated skirt in winter – Wear your skirt with a thick, knit sweater and closed boots, so that your feet stay as warm as possible. You can also put on simple tights. A thick scarf completes the look.